Organic Blanched and Unblanched Peanuts

Enquire about our
Spec/Crop Report
Products
Contact the Nuts Team

Tom Ames
Email Tom
Uren is known for sourcing the best organic blanched and unblanched peanuts from suppliers around the globe.
Our consistently high standards for quality and presentation have earned us the reputation as one of the leading suppliers of wholesale organic peanuts. With an extensive product line and various packaging options, Uren is committed to bringing you the perfect peanut for your needs.
Get in touch for further information.
Organic Blanched Peanuts
Organic Blanched Peanuts are a frequent ingredient in snack bars, granola, and any peanut product that values presentation.
The demand for blanched organic peanuts has been rising in recent years, owing to their high fat, protein, and essential minerals content with a long shelf life. To make a variety of products, organic blanched peanuts are frequently salted, roasted, and combined with oil, salt, or sugar.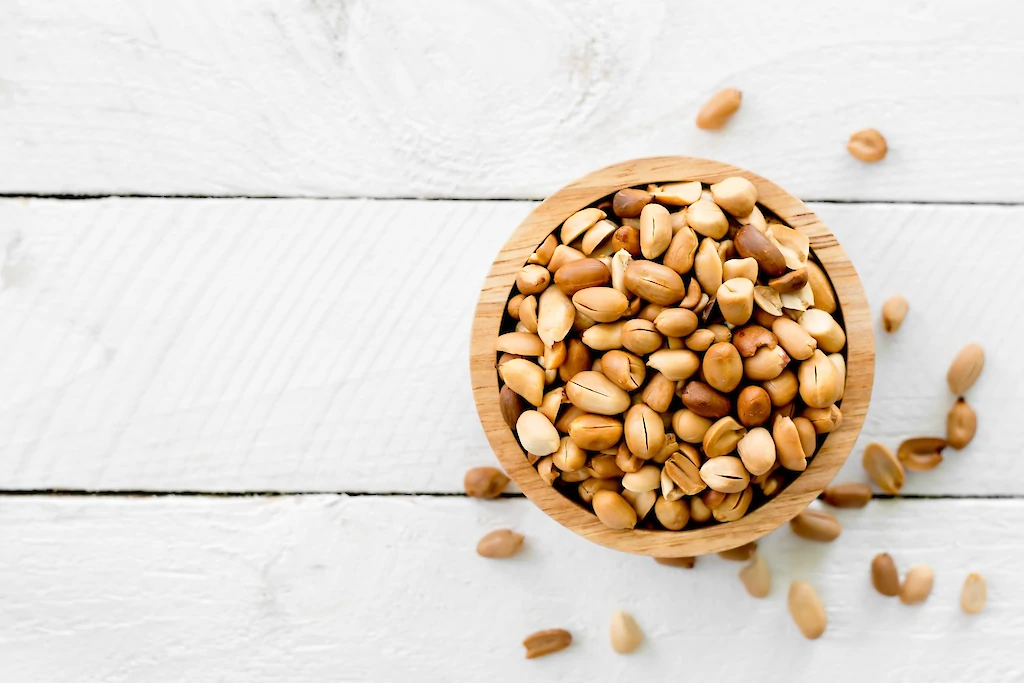 What does the blanching process involve?
To blanch implies that the nuts have been shelled, blanched, dried and peeled to remove the skin. The peanut may separate due to processing and may be classified as "split peanuts."
Split peanuts are frequently used in the snack bar and peanut butter industry, as they are not as aesthetically pleasing as a whole peanut.
Applications for organic blanched peanuts
Blanched peanuts are the ideal option for products where presentation is key. They are used in everything from peanut butter, snack bars and confectionary to satay sauce with a nutty, salty flavour.
Product applications
Organic blanched peanuts are a versatile culinary ingredient with a wide range of applications in the food industry. Here are some examples:
Bar/pub snack

Dried fruit and nuts mix

Protein or energy bars

Flavoured or coated

Ideal for snacking, roasting, flavouring, or home baking
Organic Unblanched Peanuts
While organic unblanched peanuts are shelled in the same way as organic blanched peanuts, they retain their papery skin. They tend to be less commonly available than their blanched counterparts, owing to the fact that blanched peanuts can be more profitable for producers.
Unblanched varieties have several benefits, including a great taste profile and superior nutritional value.
How do blanched and unblanched nuts compare?
Peanuts with the papery coating intact have more nutrients than blanched peanuts, and the skin also affects the flavour profile.
Product Applications
Typical applications include:
Cereal, granola and muesli

Peanut butter

Confectionary

Energy Bars/Protein Bars
Organic Peanut Products
Uren offers whole or split peanuts in a variety of sizes. Typical values are 38/42 and 50/60 although smaller sizes are available upon request.
Packaging
We stock a variety of sizes and packaging types for immediate delivery throughout the UK.
Our standard packaging options are either 950kg bags or 25kg vacuum bags - contact us for more information on packaging options.
Shelf life
2 years from manufacture production date.
Learn more
Our team is available to answer any questions you might have or to provide a quote - contact us for more information.