200 mile Cheshire Dash for Duchenne UK

James, from our Flavour Division, joined one hundred local cyclists to take part in the 200-mile Cheshire Dash on June 22nd and 23rd 2019. The event hoped to raise £100,000 for Duchenne UK to help find a cure for the devastating form of muscular dystrophy that affects young boys.
The route started in Goostrey and headed through Delamere, Mickle Trafford, North Wales, Stoke-on-Trent and Macclesfield before returning to the Cheshire Lanes. This was the second Cheshire Dash for Duchenne UK and the fantastic fundraising by the competitors raised a staggering £126,000, to add to the £125,00 raised the previous year.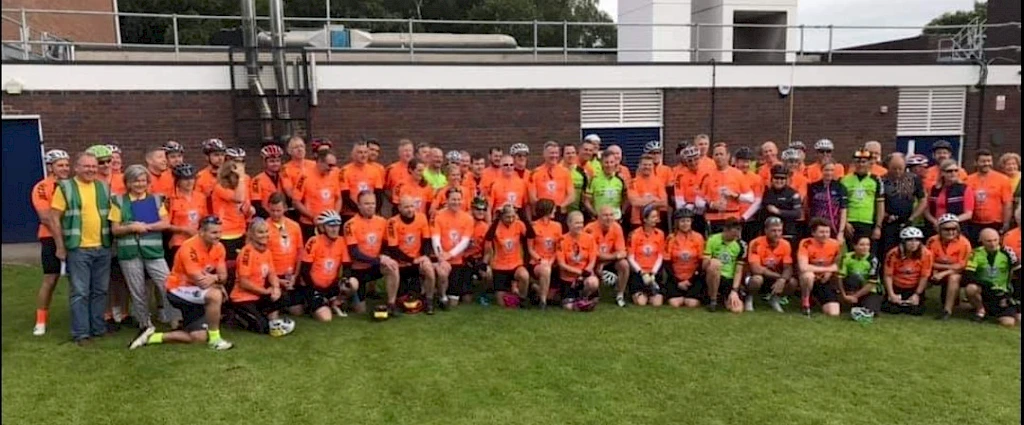 Duchenne UK has now committed more than £11.5 million to medical research and is supporting more than 60 projects worldwide. With your support and the money raised, they have the power to follow their vision: "to advance research and get treatments into the clinic and to patients as quickly as possible to benefit this generation."
James said "Having been invited to participate in the 2018 Cheshire Dash I jumped at the chance when I was once again invited to take part in the 2019 event. As a father to a little boy myself once you've met and listened to the Duchenne families it brings your own life into perspective and you are suddenly aware of just how lucky you are, and just how unfair life can be. The courage, determination and love that every Duchenne parent shows is both heart-breaking and inspiring.
Lisa, the mother of an amazing little boy Felix who has Duchenne. James said "She spoke so eloquently and bravely about the thoughts and challenges she faces on a daily basis."
Being a Duchenne parent
"Life for every parent is a journey. For a parent with a child with Duchenne that journey is carried out in a car, speeding at full tilt downhill, with no lights and no breaks, towards an inevitable, fatal conclusion.
We have kids, but life for us is far from normal. Our sons – who appear healthy when they are born – actually have a broken gene – which means that their muscles will stop working during their short lifetimes – they will be in a wheelchair – they will become paralysed – and in time their heart and lungs will fail.
But our sons are warriors and we prepare them for battle every day.
At the school gates – a moment of panic – will we be able to park close enough? Will they make the short journey in without falling? We watch their slow and determined walk in.
They stand out among their friends — tiny for their age, easily a head shorter, smaller, physically less developed and puffy of face — all side effects of the corticosteroids the boys take— the only current known treatment we have for all boys with Duchenne.
For a brief moment we look at the other boys – growing tall and strong. And then we look away because we cannot bear it – we cannot bear to be tortured by thoughts of what could have been.
Of what lives our sons might have been living if they didn't have this awful unspeakable broken gene. For me I watch his brothers growing normally, and can't bear to see the start of the differences between them… But all the while we keep on smiling and saying hello to the other parents. But inside?
Inside we are cracking, breaking, falling apart.
At home time, we hug them and kiss them and we hold them tight because we can feel them slipping through our fingers. We feel time pressing on – we feel Duchenne cutting into them – robbing them and stealing from them – and from us – every minute of every single day.
If we're lucky they go to bed without asking any questions.
But sometimes there are the unbearable questions. Why me mummy? Why did god give me this? When am I going to be in wheelchair mummy? Mummy why can't I be like my friends? Will I have it when I'm older mummy?
And then we put them to bed and we are left alone with our thoughts.
The grief never leaves. It is raw. It comes and goes like the waves of a tsunami. The gaps between the waves sometimes widen. But you always know the next wave is coming. Mostly when the wave comes, I scream at it with anger and rage.
And some days I am just left completely numb – my brain shuts down because of the intense pain. Because I know that if I let it in, it will destroy me.
This charity, DUK that has been an absolute lifeline to me. Ran by 2 amazing mothers, it is lean and it is ambitious. It has become the biggest Duchenne research charity in the UK, and one of the leaders for bringing treatments into this landscape in the world!
After hearing such an emotional story, Uren wanted to help by donating to James' cause. We are proud to give to such a worthy charity that is helping to improve so many young lives. You can learn more about this amazing charity at: www.duchenneuk.org and particularly about the impact they have had in recent years here.