Street Food Trends 2023: North America

From New York to Los Angeles, street food stalls are serving up a vibrant array of flavours, textures, and aromas.
Whether it's a classic hotdog or a fusion-inspired taco, street food culture offers a unique and dynamic approach to cuisine.
At Uren, it's our mission to provide our clients with top-quality ingredients that can elevate their culinary creations to new heights. With our focus on innovation and quality, we're always on the lookout for new trends and techniques that can help our clients stay ahead of the curve.
Our recent inspiration for culinary innovation comes from the bustling street food scene in North America, where creative chefs and vendors are constantly pushing the boundaries of what's possible with food. By embracing a wide range of ingredients, techniques, and cultural influences, they create unique and flavourful dishes that capture the spirit of their local communities.
Whether you're looking to create a new signature dish or launch a new product line, North American street food is a treasure trove of ideas and inspiration.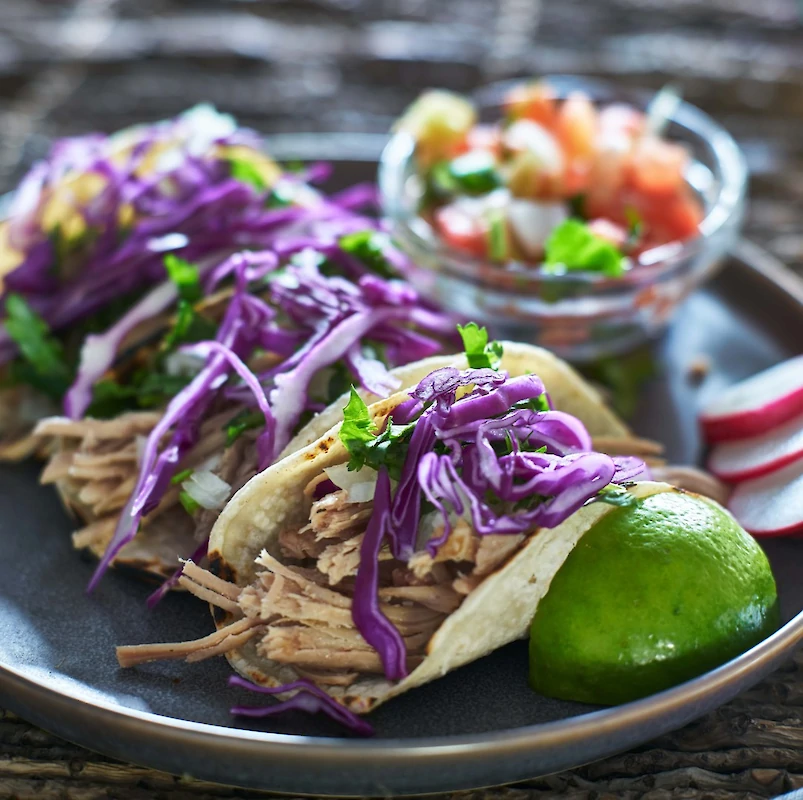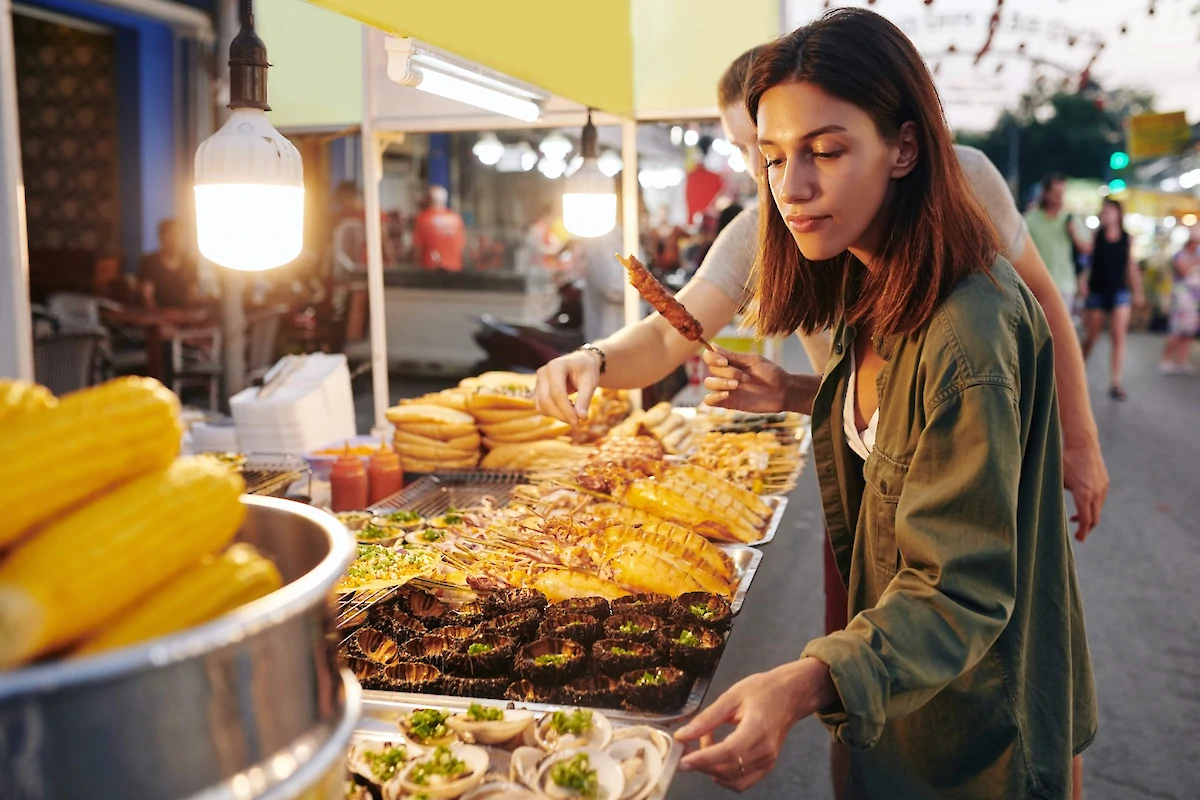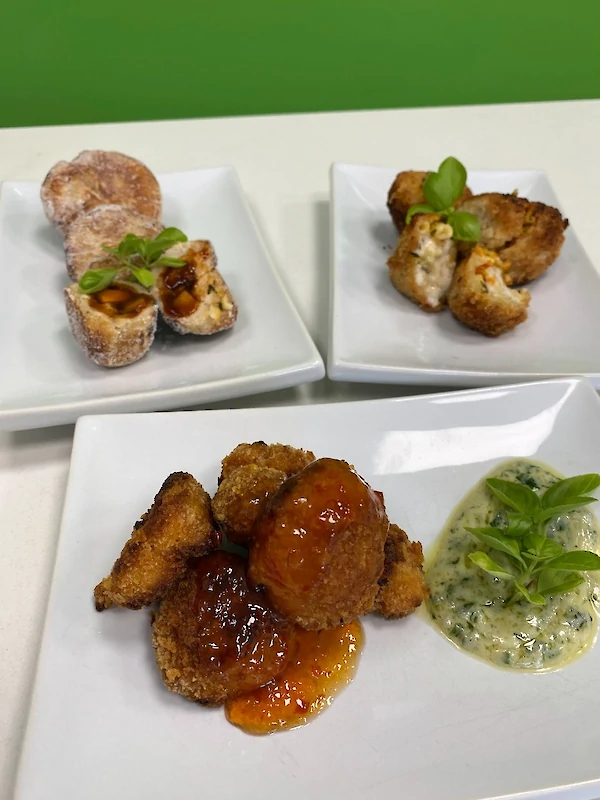 North American Street Food Flavours
North American street food is renowned for its bold and delicious flavours, often mixing classic dishes with innovative and global influences. From east to west coast, food trucks and stalls offer a diverse range of culinary creations that capture the essence of North American cuisine.
One of the most iconic flavours of North American street food is the classic hotdog. Whether steamed, grilled, or fried, the humble hotdog packs a flavorful punch with its juicy meat, zesty mustard, and crunchy onions. And with the addition of creative toppings, hotdogs can be transformed into gourmet masterpieces that are as delicious as they are unique.
From classic American hot dogs to creative tacos, the range of options available is vast and ever-changing. One of the most popular recent trends is poke, a Hawaiian dish that consists of raw fish, rice, and vegetables. Burritos are also becoming increasingly popular, with many restaurants offering unique variations on the classic dish. Churros have also become a staple in many cities across the continent, often served with a variety of dipping sauces.
At Uren, our team have taken inspiration from street food cultures across the continent to craft three unique dishes.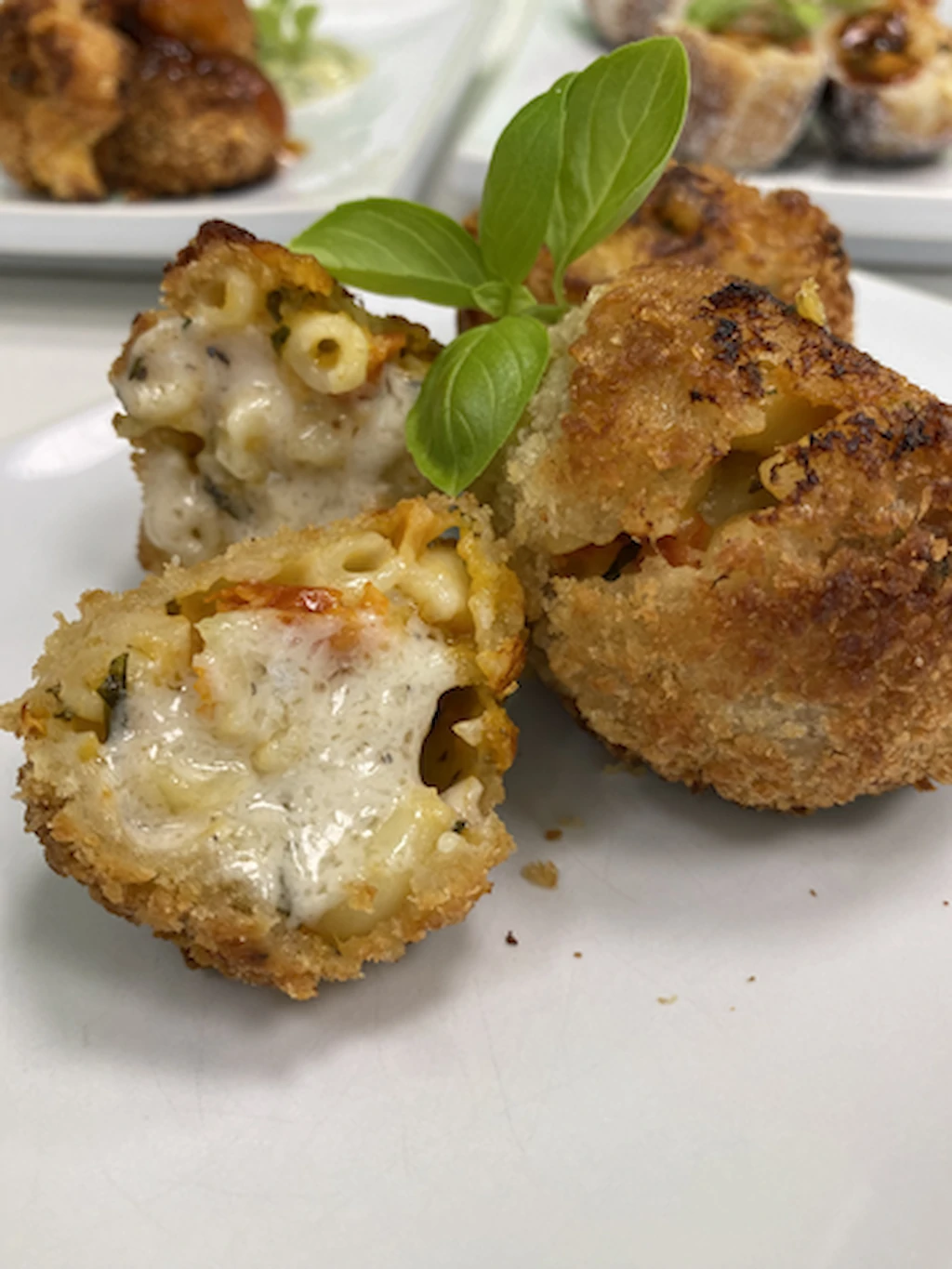 1) Mac Cheese Bites
This classic North American snack has been given an exciting and tasty twist with the addition of macaroni cheese.
Garlic Mushroom Mac Cheese Bites Uren SKU's:
IQF Garlic Pellets
IQF 3mm Rosemary
Tomato Basil Mac Cheese Bites Uren SKU's:
IQF 10mm Diced Marinated Roasted Tomato
Cajun Pepper Mac Cheese Bites Uren SKU's:
IQF 10mm Diced Yellow Pepper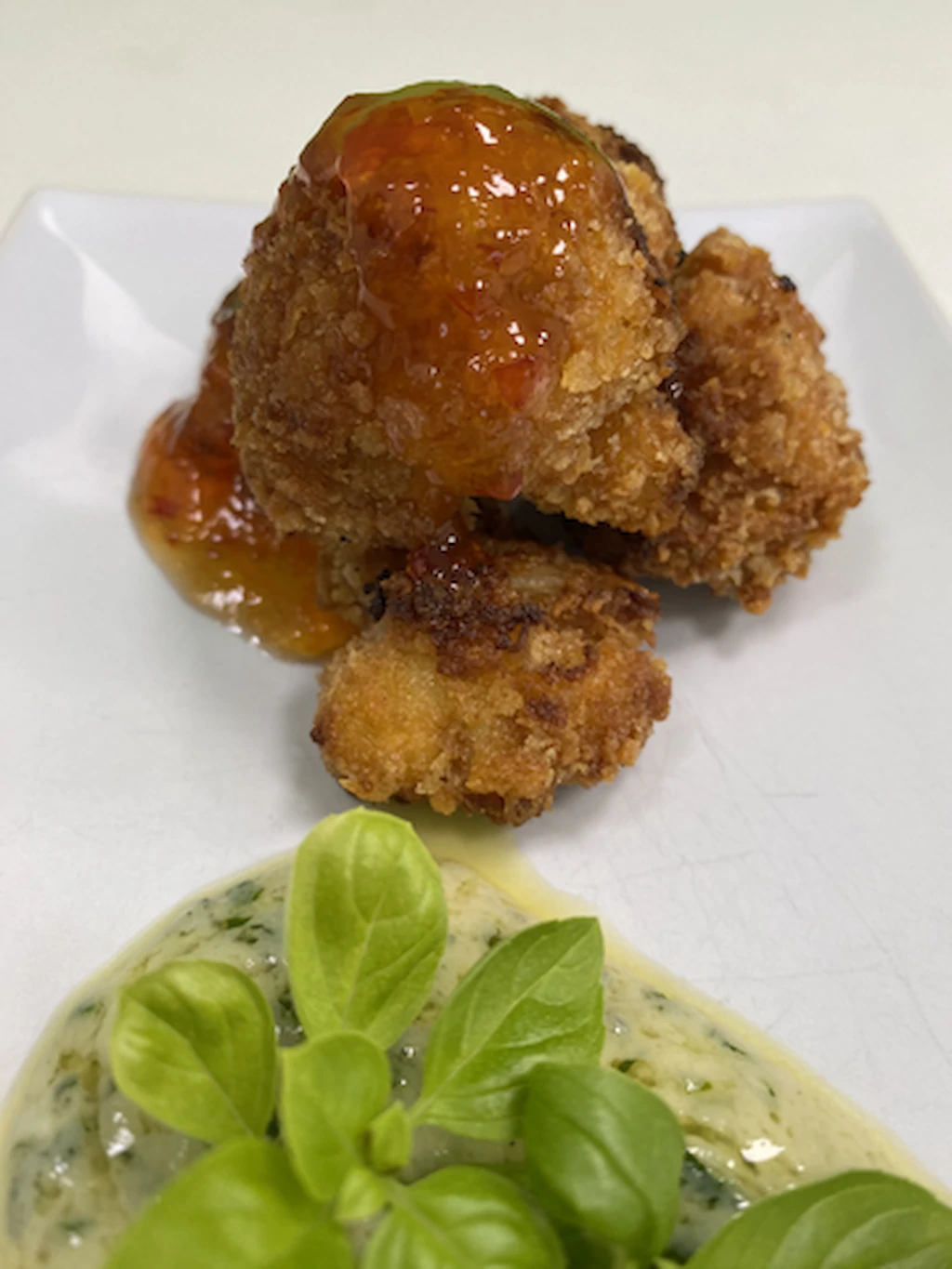 2) Buffalo Cauliflower
The combination of creamy cheese flavour paired with crunchy buffalo cauliflower is delicious, and it's perfect for snacking on the go. Served with a blue cheese dip for stronger cheese notes.
Buffalo Cauliflower Uren SKU's:
IQF 15-30 Cauliflower
Sriracha Flavour 7.96307
Blue cheese Uren SKU's:
IQF Garlic Pellet
Italian Cheese Flavour 7.95545
Chilli Jam Uren SKU's:
IQF Diced Red Chilli.
IQF 10mm Diced Red Pepper.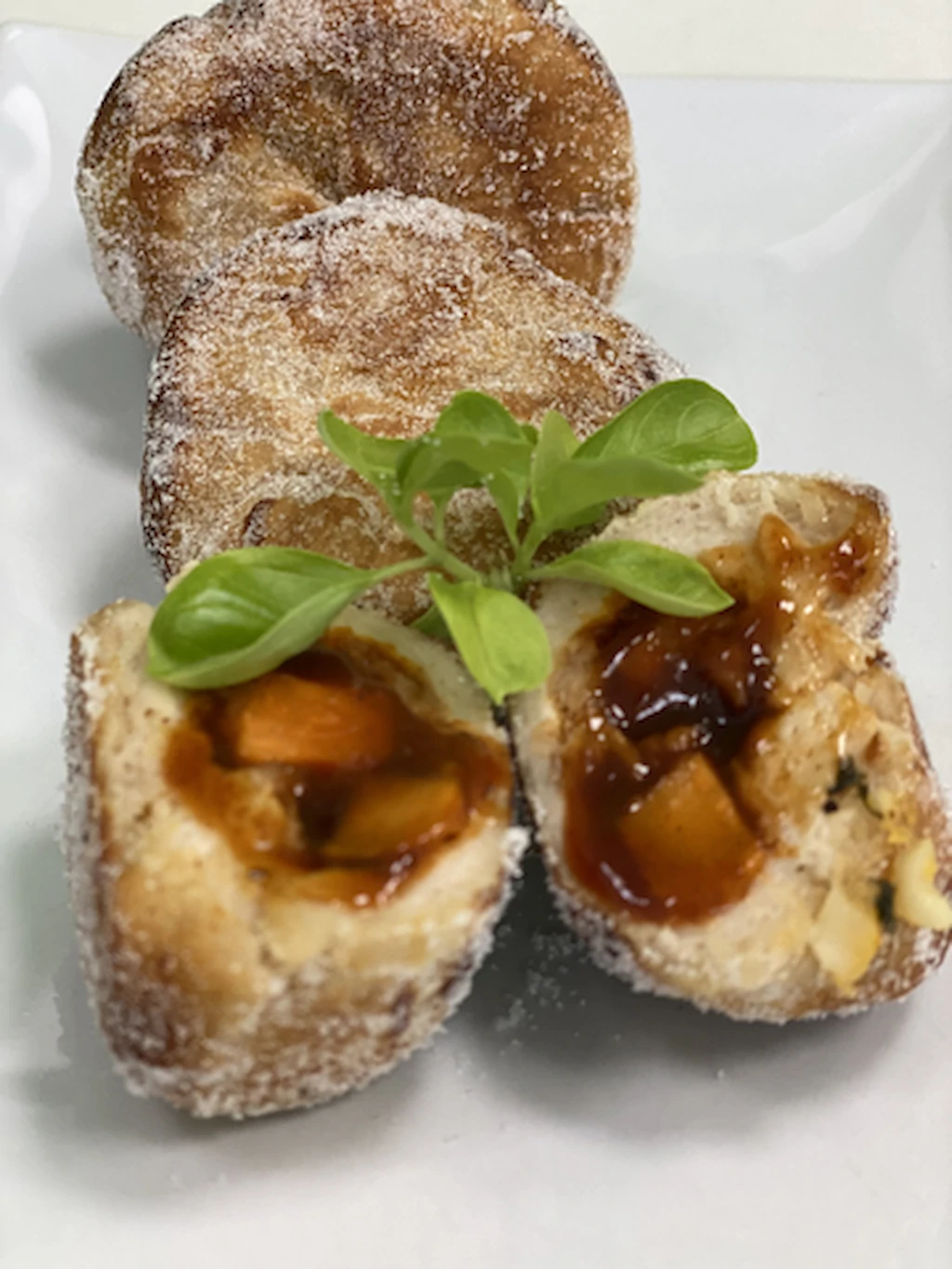 3) BBQ Jackfruit And Sweet Potato Doughnuts
With pulled Jackfruit, Roasted Sweet Potato and BBQ sauce encased in a savoury doughnut, these vegan treats are sure to please the most discerning street food consumer. The combination of sweet and savoury flavours will tantalise your taste buds, while the crunch of the doughnut provides a perfect contrast in texture. Served with a BBQ dip.
Uren Ingredients
IQF Jackfruit Coked Diced Pieces.
IQF 10mm Sweet potato.
IQF Diced Garlic.
Learn More
Street food offers an opportunity to experience a unique blend of cultures and cuisines. At Uren Food Group, our extensive range of the highest quality IQF fruit, vegetables and herbs make it easy to create delicious street food dishes from around the world.
We are passionate about providing our customers with the ingredients they need to bring authentic flavours to life. Whether you're creating classic favourites like spring rolls or experimenting with something new, our experts are here to help you every step of the way.
Contact us today to discover more.