Indian Street Food: The Flavours and Recipes of India

Indian street food is some of the most unique and flavourful cuisines in the world.
From hot, fried snacks to healthy vegetarian dishes, there is something for everyone in India's vibrant street food scene.
The variety of flavours and textures that are available from vendors on the street corners of Indian cities make it an exciting place to experience culinary delights. Street foods such as chaat, samosa, bhel puri, pani puri and jalebi are popular throughout India and vary by region.
There are also regional staples such as dabeli in Gujarat, dosas in South India, vada pav in Maharashtra and aloo tikki in Delhi. No matter what part of India you visit, you can be sure to find delicious street food!
In recent years, Indian street food has become increasingly popular around the world for its delicious flavours and unique recipes. In the UK, you can find a variety of Indian street food vendors in most major cities. There are also plenty of shops and restaurants specialising in Indian street food which offer delicious dishes to take away or enjoy on the premises.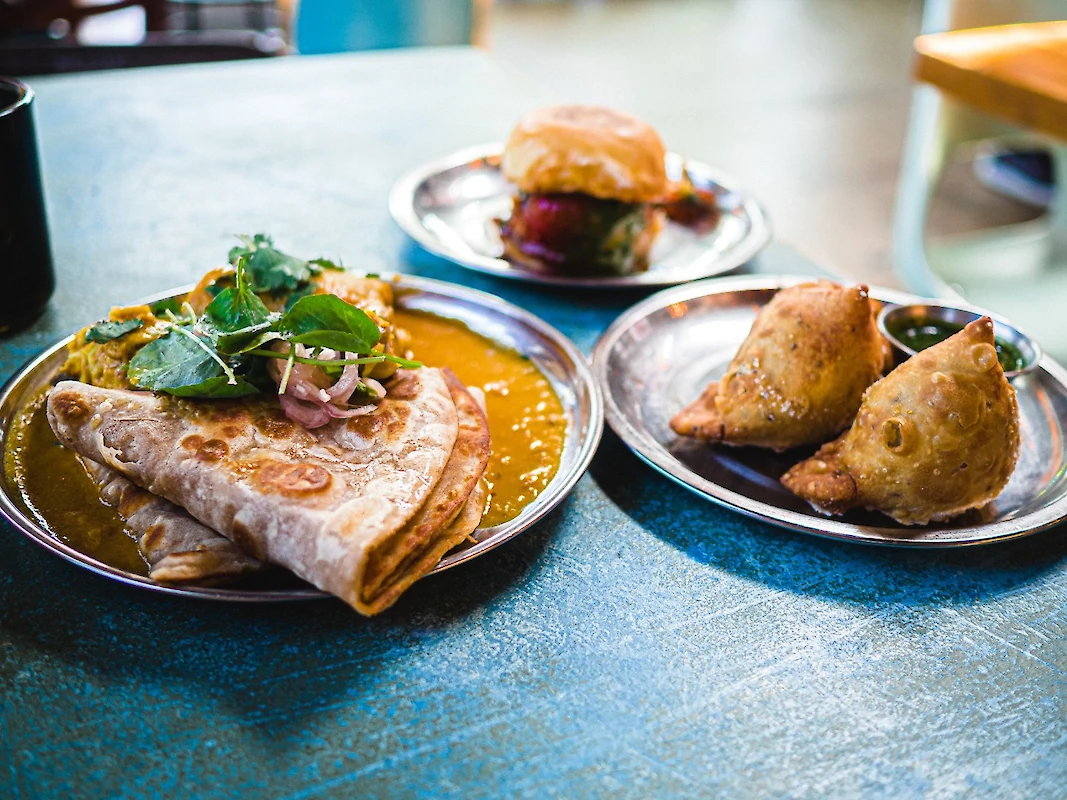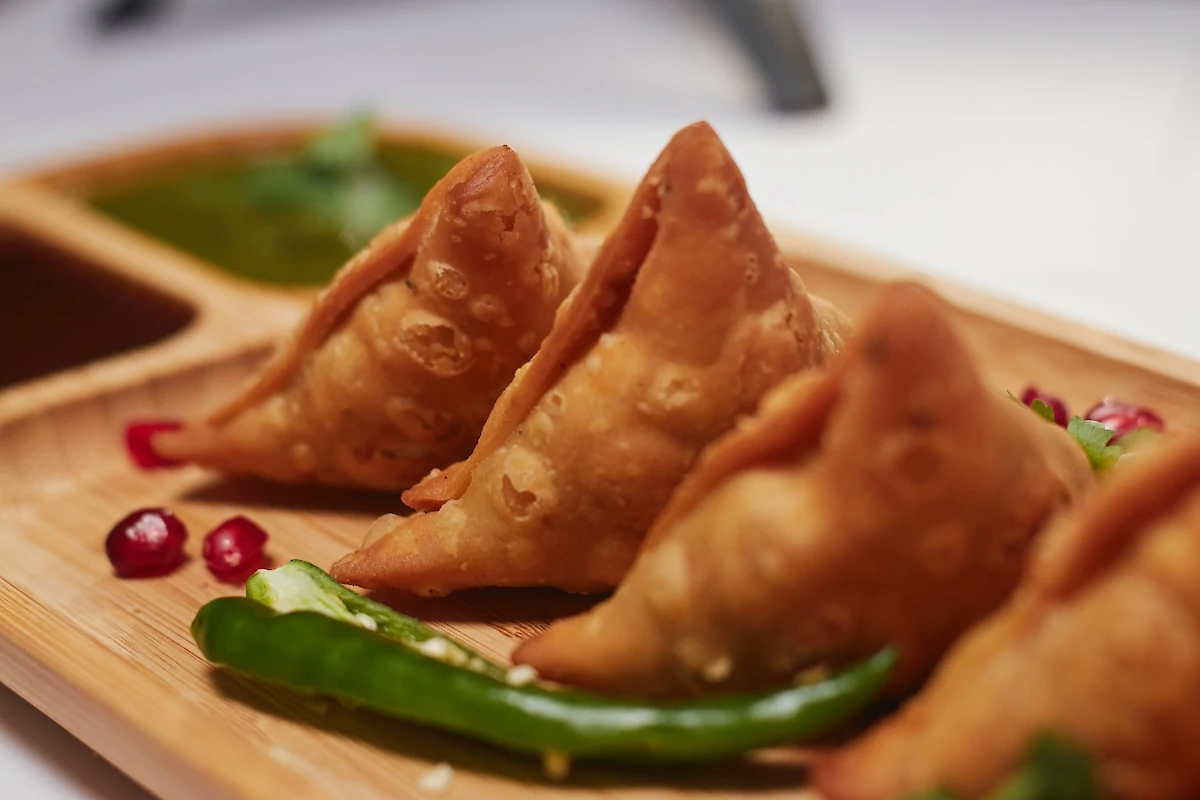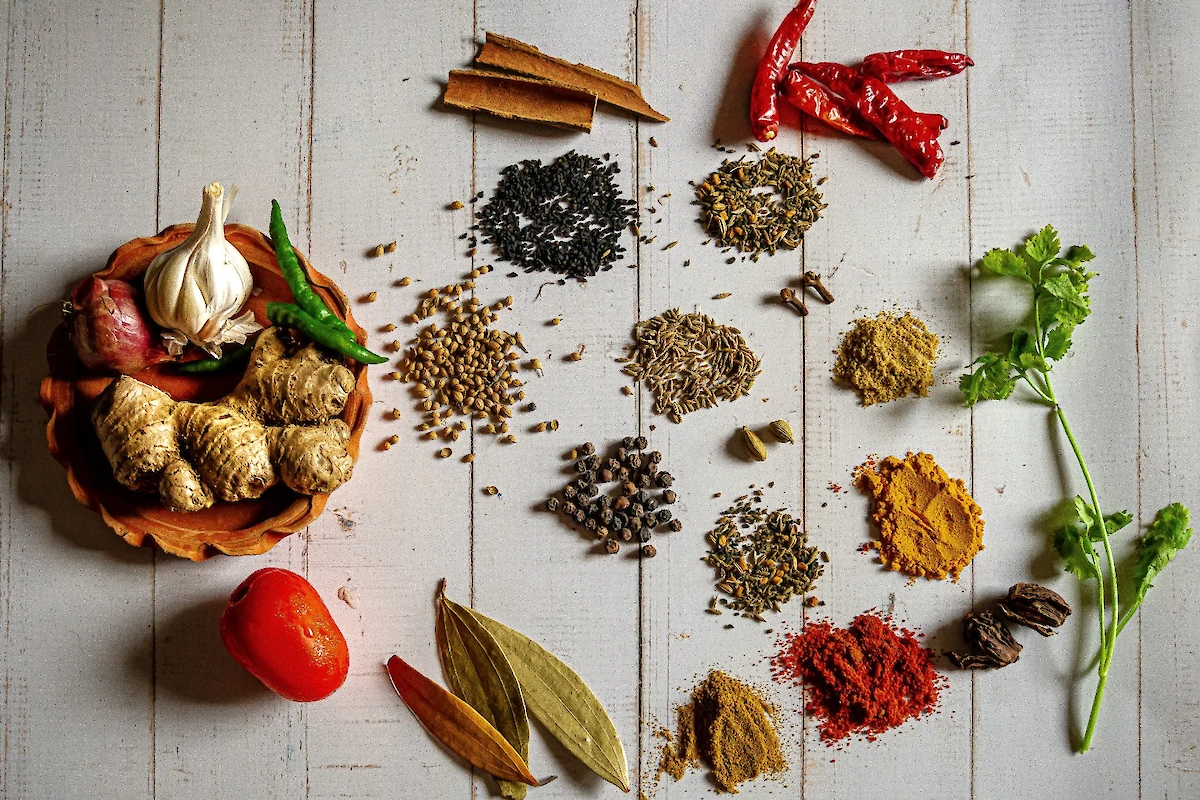 Classic Indian Flavours
Indian cuisine is known for its heady mix of spices and herbs. Here are some of the most popular flavours you'll find in Indian street food:
Coriander
Coriander is a warm and pungent spice commonly used for seasoning. With its nutty flavour, it's often used in curries and other savoury dishes.
Cumin
Cumin has a warm yet subtle flavour, making it one of the most popular spices in Indian cuisine. It is often used to season vegetables, dal and curries.
Chilli Powder
Chilli powder adds a fiery kick to dishes. It's often used in recipes like samosas, bhajis and curries.
Garam Masala
Garam masala is a mix of ground spices including cardamom, cinnamon and cloves. It adds an aromatic flavour to meat-based dishes and curries.
Turmeric
Turmeric is essential to many Indian dishes, adding a distinctive yellow colour as well as an earthy flavour. It's often used to season potatoes, lentils and curries.
These are just a few of the flavours you'll find in Indian street food. Whether you're looking for something spicy or mild, there's something to suit all palettes. Our team have put together 3 delicious recipes for Indian street food dishes using Uren's range of products.
Vegan Makhanwalla Vegetable Samosa
Our Makhanwalla Vegetable Samosa is a vegan twist on a classic Indian snack. A flaky pastry shell encases an aromatic mix of vegetables, including carrot, onion and potato.
Combined with a mild blend of spices, this samosa can be either baked or deep-fried for a crunchy snack.
Uren Ingredients
IQF 10mm Diced Potato
IQF 10mm Onions
IQF 3mm Coriander
IQF Peas
Tomato Puree
Vegetable Seekh Kebab
Seekh Kebabs originated in Turkey but have since become popular in the Indian subcontinent, particularly in the northern regions of India, Pakistan, and Bangladesh.
The word "seekh" translates to "sword", which refers to the traditional method of cooking these kebabs on a long metal skewer over an open flame. Seekh Kebabs are typically made with minced meat (usually lamb or beef) mixed with spices such as cumin, coriander, ginger, and garlic.
Our Vegetable Seekh Kebab is a vegetarian alternative, with a mix of vegetables and spices wrapped in pastry for an authentic flavour.
Uren ingredients
IQF 10mm Onions
IQF Potato (cooked and mashed)
IQF 10mm Carrot
IQF Green Lentil
IQF Diced Green Chilli
IQF Garlic
IQF Ginger
IQF Jackfruit
Tomato Puree
IQF 10mm Potato
IQF Coriander
Spiced Aloo Mattar Tikki
Popular in the North of India, Aloo Mattar Tikki is a hearty potato-based snack. Filled with potatoes, peas and spices, these tasty treats are served as part of a larger meal or enjoyed as a quick bite when on the go.
Our Spiced Aloo Mattar Tikki is made with a mix of IQF potatoes, peas and aromatic spices for an authentic taste.
Uren Ingredients
IQF Garlic
IQF Potato for Mash Potato
IQF Ginger
IQF Diced Green Chilli
IQF 10mm Onion
IQF Peas
Learn More
Street food is a great way to experience local cultures and flavours around the world. With its fragrant spices and unique recipes, Indian street food offers an experience like no other.
At Uren Food Group, our extensive range of the highest quality ingredients will help you create delicious and authentic Indian street food. Get in touch with our team of experts today to find out more about our range.